DOD Uses International Contacts to Help Allies, Partners Combat COVID-19
Gerald Scroop
October 9, 2020
In January, when the first inklings of a new, dangerous virus in China was on the horizon, Defense Department personnel alerted a well-established and internationally-connected departmental team to be prepared for a pandemic, said Stephanie Hammond, acting deputy assistant secretary of defense for stability and humanitarian affairs.
Overall, DOD has provided more than $105 million to 139 countries to aid testing, diagnostic support, infection control, personal protective equipment, contact tracing and more. This has been accomplished through the Humanitarian Assistance and Response Operations team within Hammond's Pentagon office.
"We know that COVID is an international problem that requires an international solution," said Deputy Secretary of Defense David L. Norquist. "As such, the United States is doing its part to save lives and defeat the pandemic. Across our government, people are working diligently to provide Americans, as well as our allies and partners, with medical equipment, supplies and technical assistance to support a global response capacity to a global issue."
When the coronavirus first appeared, no one knew how quickly it would spread, nor did medical personnel know exactly how it would spread, how deadly it would be, or what defenses work against it.
HARO is the nerve center of DOD's response internationally. The department — with personnel in countries around the globe — is uniquely positioned to assist U.S. civilian agencies, as well as international allies and partners.
"The HARO team, ready to respond 24/7/365, helps DOD quickly scale up its unique capabilities to support whole-of-government efforts in an international crisis response, including the COVID-19 pandemic," Hammond said.
The department's response to international humanitarian needs is built on experiences shared and best practices learned from previous global crises. The department's response to the 2010 Haiti earthquake, the 2014-15 Ebola crisis, the 2016 Caribbean hurricane, to name just a few, combined with DOD's ongoing going health initiatives and humanitarian assistance activities have yielded, over time, a system of best practices that only firsthand experience can provide.
"There is not a corner of the globe that DOD and the HARO team have not worked to meet the critical humanitarian needs of our international allies and partners," Hammond said.
DOD's dedicated involvement in the U.S. government's overseas crisis and humanitarian responses over the last 25 years taught us both the need and the value that a team of specialists with unique backgrounds in military, humanitarian, health and foreign affairs can bring to bear on the needs of others, according to Hammond.
DOD's first involvement in the COVID-19 crisis really came with cruise liners, defense officials said speaking on background. "That's when we really started to get an inkling that things were not normal," the official said.
The department helped get Americans off the affected cruise liners, back to the United States, and then quarantined the people at military posts.
But even before that, the office activated the department's global health engagement council and working group. The group grew out of experiences during the Ebola epidemic in West Africa in 2014-2015. That experience showed the breadth of capabilities needed to combat a pandemic. The group — which existed before — picked up advisors from many different portions of DOD and includes personnel from the State Department and the U.S. Agency for International Development.
While tens of thousands of military personnel have helped fellow citizens combat COVID-19, there are thousands more making a difference overseas, where friends, allies and partners are struggling with the same coronavirus threats.
Engaging closely with the Department of State, the U.S. Agency for International Development, the Centers for Disease Control and Prevention, and the Department of Health and Human Services, the HARO team evaluates international requests for assistance with the department's ability to support and complement — versus duplicate — others' efforts.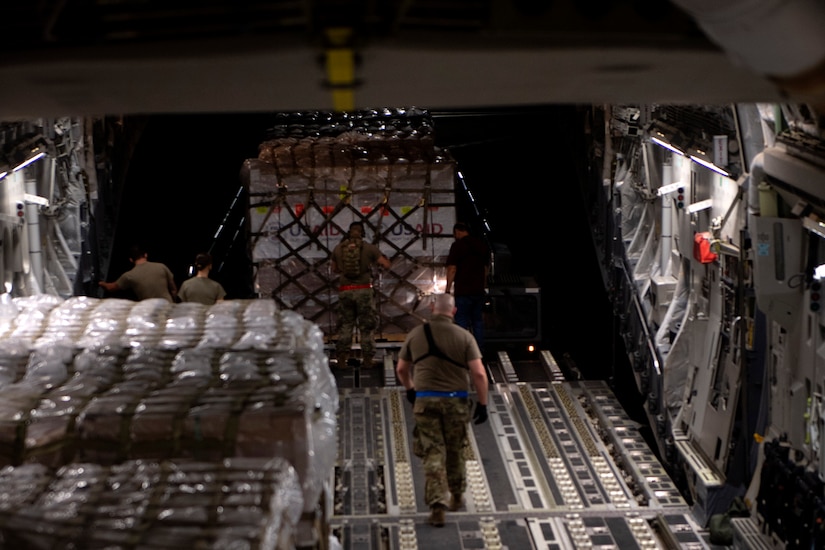 The heavy DOD involvement in the interagency response to Ebola, for example, really called for a more robust team within Hammond's office. The team was operational before COVID-19, "so DOD could scale up the unique capacity that it has within the interagency," Hammond said.
This includes the vast network of international medical lab centers, diagnostic centers and equipment and a worldwide transportation web.
"The team paid dividends right from the get-go," a defense official said.
In March, in addition to more U.S. efforts, there were more international efforts, too. "We really focused on what were the most acute needs of allies and partners," Hammond said. "We were working with State [Department] and USAID to make sure that we were complementing and not duplicating efforts."
Protective equipment, diagnostic tests and more were requested. The DOD office sorted the requests and acted. DOD shipped a field hospital to Mexico that had been requested months before COVID-19 was identified. The $2 million facility arrived just before the pandemic started, and U.S. and Mexican officials worked together to reconfigure it to handle COVID-19 patients. The Mexicans split it into two parts to serve more people. It was funded via OHDACA — the Overseas Humanitarian, Disaster Assistance and Civic Aid fund.
Italy was hit hard in the early days of the pandemic, and Hammond's office provided almost $10 million in OHDACA funding. The program helped Italy build its internal capacity to respond to the pandemic, Hammond said. The aid will help the country improve its in-house capacity to respond to anticipated second and third waves of the pandemic.
OHDACA is not simply a transfer of funds, but a transfer of equipment, materials, expertise or a combination of all. It is an immediate boost to capacities, not something that has to be bought and brought in, officials said.
The six combatant commands are each involved in the process. For example, U.S. Northern Command helped with the Mexico transfer. U.S. European Command helped with Italy. U.S. Africa Command provided public health subject matter expertise to the African Union and the Africa CDC. U.S. Southern Command has just shipped a field hospital to Jamaica.
U.S. Indo-Pacific Command worked closely with USAID to deliver ventilators to Indonesia and train Cambodian field epidemiologists.
DOD programs are helping allies and partners obtain therapeutic drugs and learn the latest in how to treat COVID-19 patients.
The United States stands by this help also. U.S. personnel help to ensure that the local officials know how to use the equipment and maintain it. The U.S. can provide people who can explain the latest treatment techniques and preventive measures. All of this benefits the people of those regions and creates stability so that they have a better opportunity to survive, prosper and thrive, officials said.
DOD scientists are involved in every aspect of the COVID-19 vaccination effort, and the office is well-versed in progress on that front. It stands ready — once a vaccination is developed and deemed safe — to assist allies and partners build their own programs.
"We want to be very responsive to allies and partners in need of pandemic assistance," Hammond said. "What distinguishes us from the response of other actors, particularly China, is that the U.S. commitment is enduring. We are there for our allies and partners to improve their own internal capacity in a way that serves them best so that they may successfully respond to this global pandemic."
Choose which Defense.gov products you want delivered to your inbox.